Written by Si Himan during the First Intifada, this haunting song explores the effects of war and violence on Israeli society and psyche. Entitled "Shooting and Crying," this popular phrase refers to the psychological impact of Israeli policies on soldiers themselves, applauded by some as moral self-reflection and labeled by others as hypocrisy. Hyman wrote the controversial song after hearing about an incident in which Israeli soldiers beat four Palestinians and buried them alive. Israel's Army Radio banned the song, claiming it attacked Israeli soldiers, and although it was not officially banned by the Israeli broadcasting networks, it was rarely played. The English lyrics are provided below. See the Hebrew lyrics of the chorus below and the complete Hebrew lyrics here. Please note: The video owner has disabled playback of this video on other websites, so this video must be watched on YouTube.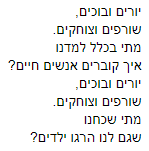 Shooting & Crying
The street cleaner told me
That in his village everything had changed.
Life seems different in the shadow of the filth
And in my house, the window is broken
Tel-Aviv bursts into me
Even its smell has changed — I sense danger.
Boys play with lead,
Girls with dolls of steel.
Life seems different to me in the shadow of the filth
It doesn't matter to me at all
Who will win this time.
The world that I had is no more
And the great light has been extinguished.
Boys play with lead…
Chorus:
Shooting and crying
Burning and laughing
When did we learn how to bury living people?
Shooting and crying
Burning and laughing
When did we forget that they also killed children for us?
At home in the city everything is different
Wrapped in cellophane, tied to the ground
I wait for the train
How long will I wait to see what will happen?
Until when will we wait and cry over what is happening
On both sides, people just want to live
With this great fear it's impossible to see a thing
We want shelter from the struggle
It so doesn't matter to me who is the stronger.
Chorus